PROFESSIONAL CERTIFICATE
Clinical Procedures
Acquire intermediate-level knowledge to manage a variety of common problems requiring office-based surgical intervention.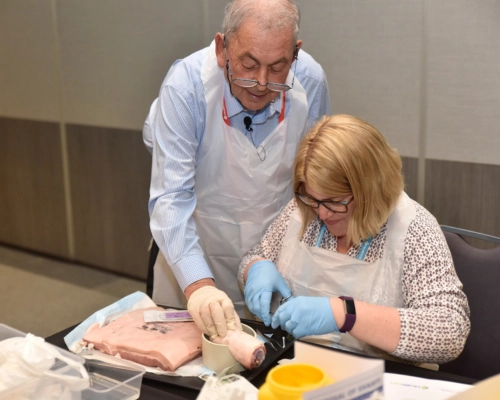 Gain knowledge from a broad range of surgical procedures, local anaesthetic approaches, post-operative care, and various suturing techniques.
This course is perfect for practitioners with no to little training in this area.




Develop confidence in various procedures and understand their limitations without further practical experience.

This course is for medical doctors and International Medical Graduates.

The program is approved for the Rural Procedural grant program.

CPD-accredited and university-assured.

CPD requirements
Fulfils 50 hrs for medical professionals in Australia*


Study modes
100% online
Online + workshop


Course fee
from $2495
Special rates available


Study duration
72.5 hours
Self-paced


Workshop dates & locations
11 Nov in Brisbane
2024
02 Mar in Brisbane
25 May in Melbourne
21 Sep in Sydney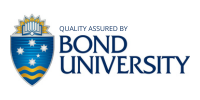 Learn from a broad range of surgical procedures, local anaesthetic approaches, post-operative care, and various suturing techniques.

Manage wounds and possible infections.

Learn more about foreign body removal, lacerations, sebaceous cysts and ingrown toenails.

Manage subcutaneous lipomata and learn tips and tricks on avoiding excessive bleeding.

Learn to manage different lacerations with the aim to obtain primary closure.

Treat

haemorrhoids

and anal-rectal conditions.
Get unlimited access to all course content, additional learning materials, ongoing post-course support, and more.
*These topics are covered during the face-to-face sessions in the optional skills workshop. View the workshop program.
Principles of wound healing and managing small procedures in general practice

Unit 1: Introduction, theoretical and practical concepts: This unit commences with a presenters' introduction and then outlines the principles of wound healing and management. Overall and specific objectives are listed. Preparation of a patient for a clinical procedure is outlined at the end of this unit. Informed consent and post-operative care are covered.

Unit 2: Skin anatomy, tension lines and wound healing: The unit commences with drawings of skin anatomy and relaxed skin tension lines. The principles of wound healing and the three stages of healing, types of wound healing (primary and secondary intention) as well as wound classification are described. The unit finishes with an overview of factors that affect/aid wound healing and potential sources of wound complications.

Unit 3: Aseptic technique and local anaesthetics: Aseptic techniques which protect patients during invasive clinical procedures by employing infection control measures are shown, divided into four potential sources of contamination. The unit concludes with local anaesthetics techniques, preparation prior to surgery, mechanism, agent dosages and needle technique.

Unit 4: Safety, equipment and complications: The unit lists the use of various equipment used for clinical procedures, illustrated by photos. Potential complications and how to reduce these complications are listed.
Closing the wound

Unit 1: Wound closure - knot tying and suture theory: This unit focusses on the objectives of wound closure and outlines the steps for effective wound closure using staples, glues, tapes or sutures. Characteristics of suture materials are evaluated and classified into absorbable sutures and non-absorbable sutures, including recommended timing for suture removal. At the end of this unit, suture materials including needle components, types and their design are discussed together with a diagram of the square knot for tying sutures.

Unit 2: Suturing techniques: The unit commences with demonstrating the use of simple interrupted sutures. The unit considers anatomy related to skin suturing and the use of buried dermal sutures and continuous subcuticular sutures. Drawings of vertical and horizontal mattress stitches are shown and in which cases the different suture methods are used. The unit concludes with a diagram of the continuous subcuticular suture.
Lacerations and wounds

Unit 1: Types of lacerations, debridement and assessment: This unit commences with an overview of various types of lacerations and how to conduct a wound assessment. Clinical images of wound debridement are included.

Unit 2: Treating wounds and lacerations: This unit begins with the surgical technique for slicing injuries located on the dorsum finger. Images are shown of several pretibial lacerations. The unit continues with surgical techniques for foot lacerations and describes which types of dressings are appropriate to use.

Unit 3: Hand and finger lacerations
Unit 3 commences with surgical techniques for lacerations located on the finger and hand, including a drawing of the nerve supply to the digits. Clinical images for tendon injury testing and wound examination is included. The unit distinguishes four categories of people: babies, children, elderly and frail people. Attention is paid to wound diagnosis and bleeding control.
Foreign bodies and healing by second intention

Unit 1: Assessment, investigation, principles and types of foreign bodies: The unit commences with using diagnostic and surgical skills for patient assessment. After investigation by X-ray and/or ultrasound, the procedure to be followed can be determined. Images of several types of foreign bodies are shown. Surgical technique and images for removing foreign bodies located on the finger, foot, ear and nose as well as removal of Implanon devices are discussed. The surgical technique for removal of glass located on the dorsum of the foot and hand are illustrated by step-by-step images of these procedures. The unit finishes with an overview of required equipment, the 'mother's kiss' technique and reinforces the importance of informed consent.

Unit 2: Healing by second intention: The unit concludes with several images of the procedure to remove debris or infected/dead tissue from a wound and includes the healing process.
Ingrown toenails

Unit 1: Anatomy and Aetiology: This unit focusses on how to treat a variety of nail related conditions. A photo of the anatomical sagittal section germinal matrix as well as the anatomy of nerves and vessels for fingers, toes including dorsal and plantar digital vessels and nerves is shown. Treatment of ingrown toenails in a simulated setting is supported by clinical images.

Unit 2: Surgery and consent: Surgical indications and options for the treatment of ingrown toenails are listed and supported by numerous clinical images.

Unit 3: Assessment, nerve blocks/ tourniquets and operative technique: This unit commences with the pre-operation assessment of the patient and patient advice. The digital nerve block and tourniquet procedures are explained. Step-by-step clinical images of operative techniques, post-operation care and possible complications complete this unit.

Unit 4: Nail conditions: The final unit outlines several nail conditions including subungual haematoma and paronychia of fingers and thumbs.
Lumps and bumps

Unit 1: Diagnoses and sebaceous cysts: This unit lists the of principles of surgical examinations, pathological processes and procedures in order to develop a clinical/surgical approach to common lumps and bumps. The management of infected and inflamed cysts including cyst surgery is outlined.

Unit 2: Granuloma, Suppurative hidradenitis and Pilar cysts: The surgical excision of granulomas is the first topic of this unit. The operative technique is explained, with clinical images of the procedure. The next topic is Suppurativa Hidradenitis, showing removal of the lumps and the unit concludes with removing pilar cysts using local anaesthesia.

Unit 3: Lipomata and Abscesses: The unit commences with planning and approach to surgical excision of a lipomata including wound closure. It then discusses abscess treatment and removal and concludes with the drainage and dressing after abscess removal.
Diagnosis and management of anal rectal conditions

This module is for diagnosing and referring patients to expert care. Most listed procedures are not performed in a general practice clinical setting.

Unit 1: Conditions and anatomy: The unit outlines a list of possible anal rectal conditions to assist with diagnosis and referral. Clinical images demonstrate the anal canal transition and sensory nerves, and includes diagrams of venous drainage, arterial supply and lymph drainage of the anal canal.

Unit 2: Haemorrhoids and haematoma: This unit describes the mechanism and symptoms of haemorrhoids, including the four stages of haemorrhoids, and outlines various treatment options. Clinical images are shown of prolapsing haemorrhoids and the unit concludes with a video of perianal haematoma removal.

Unit 3: Haemorrhoids? Polyps? Tags? Warts?: A description is given of possible diagnoses and treatment of anal rectal conditions including haemorrhoids, polyps, tags, warts and fissures. It outlines symptoms, illustrated by diagrams and clinical images to assist with diagnosis and management.

Unit 4: Complex conditions and other procedures: The final unit of this module focusses on procedures including proctoscopy and sigmoidoscopy that are rarely performed in general practice. Surgical management options for haemorrhoids are listed including post-operation instructions and possible complications.

This module is for diagnosing and referring patients to expert care. Most listed procedures are not performed in a general practice clinical setting.
Managing infected lesions

Unit 1: Venous ulcers – identification and treatment: Leg, foot and venous ulcers are the focus of this first unit, describing diagnosis and outlining treatment options. Clinical images of appropriate dressing and bandaging techniques are provided to maximise healing of venous ulcers.

Unit 2: Venous ulcers – biopsy, healing, grafting: This unit builds on the previous unit and focusses on biopsies as a diagnostic tool and describes the various biopsy techniques including split skin grafts and how to exclude arterial disease including the use of a doppler or duplex ultrasound. Clinical images and diagrams assist with learning.

Unit 3: Pyoderma, Neurovascular ulcers and diabetes, cellulitis and lymphoedema:The unit describes two unusual disorders: Pyoderma gangrenosum and vasculitis disorders including neurovascular ulcers, neurovascular diabetes, cellulitis and lymphoedema. It describes the symptoms and patient information to assist with diagnosis. It outlines the various treatment options including pros and cons of each option.

Unit 4: Varicose vein treatments: The module concludes with practice based varicose vein treatments using (micro) sclerotherapy or puncture and avulsion under local anaesthetic. Images of step-by-step procedural instructions are included. Possible side effects and disadvantages of sclerotherapy are listed. The final section of this unit focusses on treatment options including laser ablation, radio-frequency or embolization.
Did you know you can also study most of these course modules in HealthCert 365?
If you're not interested in pursuing a full certificate in this field but simply want to enhance your skills in specific topics covered in this course, you can access the content of this and other courses for a flat fee of $83 per month (paid annually) within HealthCert 365.

A/Prof Maurice Brygel
FRACS
General Surgeon and Lecturer, Royal Australian College of Surgeons
Associate Professor Maurice Brygel is a Melbourne general surgeon who is a pioneer in day surgery hernia repair, having performed over 10,000 hernia operations. He became known as the "hernia king" after establishing the Melbourne Hernia Clinic at Masada and Cabrini hospitals. Maurice also teaches hands-on surgical office skills, which led to him producing and presenting certificate courses in clinical procedures with HealthCert over the last five years. Maurice teaches at Notre Dame Medical School, Cabrini, the Alfred, and the Royal Australian College of Surgeons. Maurice has published extensively on hernias and authored several multimedia books including "The Video Book of Surgery" and "Exploring Essential Surgery" with the Mcgraw Hill Access Surgery and Medicine.

Dr Peter Grossberg
FRACS, MBBS
Senior Surgeon and Lecturer, Box Hill Hospital Melbourne
Dr Peter Grossberg is a graduate of the University of Melbourne and has a Fellowship from the Royal Australasian College of Surgeons and the American College of Surgeons. He practices as a general surgeon and an Endoscopist in Cabrini Hospital, Malvern with extensive experience in general surgery, endoscopy, and laparoscopic surgery especially laparoscopic hernia surgery. Peter has been an examiner in surgical education at the undergraduate and postgraduate level for the past 35 years. He runs workshops for surgical trainees and GPs, particularly in office procedures.
Peter has been a senior lecturer in surgery at Monash and Melbourne Universities and continues to be involved in teaching and examination at the postgraduate level for anatomy at the University of Melbourne. He has been a Senior Surgeon, Head of Unit and Chairman of the Division of Surgery at Box Hill Hospital for the past eight years.

Dr Peter Milne
MBBS
Vascular, Endovascular & Laser Surgeon, Melbourne Vascular Surgery Unit, Cabrini Medical Centre, Victoria
Dr Peter Milne originally trained in general surgery but has specialised in vascular surgery since 1977. Peter was trained in Cardiovascular Surgery at the Methodist Hospital, Houston, Texas and in Vascular Surgery at Royal Melbourne and Epsom District Hospitals. He established the Melbourne Vascular Surgery Unit in 1985.
Peter's expertise and special interests include aneurysm repair by open surgery and endovascular means, and carotid surgery for stroke prevention with carotid artery stenting. He also performs limb bypass surgery as well as minimally invasive techniques of angioplasty and stenting. Another speciality of Peter's is varicose vein treatment by surgery, laser and sclerotherapy including embolisation for pelvic congestion.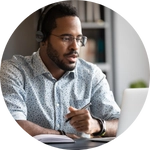 Study at your own pace and to your own schedule.
View and replay video lectures at your convenience.
Participate in online case discussions with your peers.
Attend or watch recordings of live tutorials with experts in this field.
Complete your assessment online and receive your CPD points and certificate.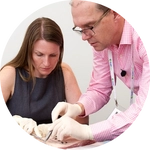 Complete your course online and receive all the benefits of online study, then put theory into practice at a small-group workshop.
Gain hands-on practise in various procedures covered in the course under expert guidance.
Workshops are available in Brisbane, Melbourne, and Sydney.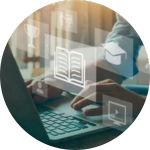 Easily meet your CPD requirements and gain valuable skills – all in one place for $83 per month.
Customise your learning experience by accessing and focusing only on course modules that interest you the most.

Gain access to 200+ additional CPD activities and 50-hour special focus CPD programs, sourced from all HealthCert university-assured programs.
Bundle two courses and save 5%, or three courses and save 10% upon enrolment.
Talk to us about deferred payment options, registrar scholarships and special rates.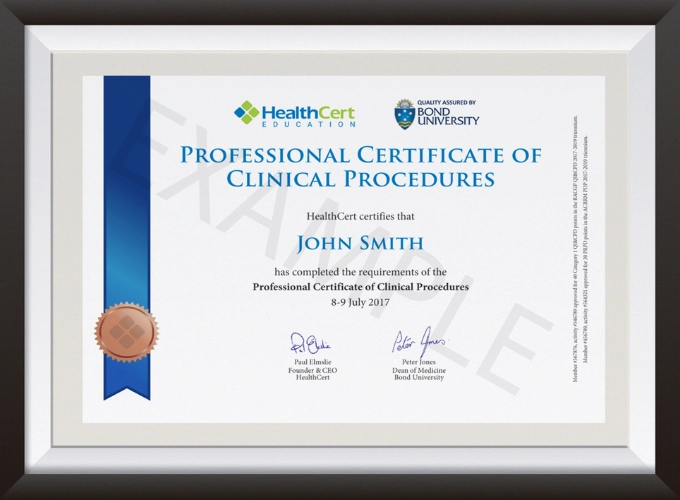 The courses provide valuable experience and practical knowledge for any GP who encounters common skin and joint pathologies in daily practice. Expert teaching on models will enhance their skills and make them adept at dealing with common skin lesions, lacerations, lipomas, sebaceous cysts with good surgical outcomes.
Great quality of knowledge and teaching. Excellent explanations of surgical skills. Brilliant lecturers, excellent demonstrations.
The courses are taught by highly knowledgeable speakers who are approachable and keen to share knowledge to assist your practical skills. The course is really informative and there is plenty of time to practice.
RACGP Activity Number
Activity Title
Education Hours
Performance Hours
Total Hours
Foreign Bodies and Healing by Second Intention
3.5
5
8.5
Lacerations and Wounds
4
5
9
Closing the Wound
4
5
9
Diagnosis and Management of Anal Rectal Conditions
4
5
9
Lumps and Bumps
3.5
5
8.5
Principles of Wound Healing and Managing Small Procedures in General Practice
4.5
5
9.5
Ingrown Toenails
5
5
10
Managing Infected Lesions
4
5
9
Outcome measurement activities are not a requirement of our professional and advanced certificates. You may use an optional HealthCert outcome measurement activity or develop your own.
HealthCert provides several options to meet your outcome measurement hours requirement. These options are self-submitted activities and hours may vary depending on your focus area.
Plan Do Study Act (PDSA) options on a specific topic.
Plan Do Study Act (PDSA) on your identified area. A generic template is provided.
Outcome Improvement Activity relating to specific topics within the course.
The purpose of outcome measurement activities is to improve your clinical confidence in managing an identified learning gap. The outcome improvement activities are designed to examine current clinical care, align clinical practice with best practice standards and identify opportunities for improvement.
Entry requirements

The Professional Certificate of Clinical Procedures is ideal for Medical Doctors and International Medical Graduates who wish to further their surgical office-based knowledge by gaining an intermediate level understanding of a variety of common problems requiring surgical intervention. This course is open to degree-qualified medical practitioners.

The course assumes no prior knowledge or training in the field. Participants do not have to pass an IELTS test but, as the courses are delivered in English, proficiency in listening, reading and writing in English is assumed.

Participants will require access to a computer/laptop, an internet connection and a basic level of technology proficiency to access and navigate the online learning portal.
Recognition of prior learning (RPL)

Professionally recognised qualifications and prior studies may be recognised for entry into this course if the learning outcomes match exactly. Please ask a HealthCert Education Advisor for an individual assessment of your prior qualifications and experience.
Certification

This certificate course meets the minimum 50 hours CPD annual requirement across all three mandatory CPD activity types, provided an outcome measurement activity with a minimum of five hours is completed. You may use an optional HealthCert outcome measurement activity or develop your own.

Outcome measurement activities are not a requirement. You may use an optional HealthCert outcome measurement activity or develop your own.

Upon successful completion of the course requirements, course participants will receive the Professional Certificate of Clinical Procedures certificate.

This certificate course:

Is quality-assured by Bond University.

Qualifies for CPD hours from the Royal Australian College of General Practitioners (RACGP).

Qualifies for CPD hours from the Australian Council of Rural and Remote Medicine (ACRRM).

Is recognised by the Royal New Zealand College of General Practitioners (RNZCGP).

Is recognised by the Hong Kong College of Family Physicians (HKCFP). The HKCFP recognises all courses




endorsed by the RACGP. Points are calculated differently.

Is a self-submitted activity in Dubai. The number of CPD hours must be stated on the certificate. Please contact PLD@dhcr.gov.ae for more information.

Is a self-submitted activity in the UK. CPD events overseas, applicable to a doctor's scope of practice, may be submitted for revalidation. Please confirm with your Responsible Officer.

Is a self-submitted activity in Canada through the College of Family Physicians of Canada. Contact mainprocredits@cfpc.ca for more information.

Meets World Federation of Medical Education standards.

Has been independently developed with subject experts and does not receive education grants from any pharmaceutical company.

To learn more about the delivery of certificates in Australia and overseas, please visit our FAQs.
Pathways

Postgraduate Diploma in Minor Surgery with the University of Plymouth (UK)

The Postgraduate Diploma in Minor Surgery is studied through the Rila Institute of Health Sciences and awarded by the University of Plymouth (UK).

There are three modules in the Postgraduate Diploma. Medical professionals who successfully complete the HealthCert Professional Certificate of Clinical Procedures will be eligible to apply for Accreditation of Prior Certified Learning (APCL) for module 2.

The Postgraduate Diploma is mainly delivered online. No practical workshops will be required due to the APCL from the HealthCert qualifications. Overall there will be a time saving of 40 per cent of the postgraduate program due to the APCL. Exams will be held in Perth, Western Australia.

When the Postgraduate Diploma has been successfully completed, doctors can apply for credit from the Postgraduate Diploma to the Master of Science in the specialism awarded by the University of Plymouth.

For more information please click here.

Certified Clinical Attachments Pathway

Clinical attachments are optional and available on a 1:1 basis. These provide the opportunity to observe clinical procedures and ask questions of the expert performing the procedures. Clinical attachments are available for Skin Cancer Surgery (only for graduates of the Professional Certificate of Clinical Procedures). These are available in Australia and overseas. The clinical attachments are 1:1 in Australia and they are in small groups at university teaching hospitals and clinics overseas. HealthCert certificates and university statements are awarded for participating in clinical attachments.
University quality-assured and CPD-accredited education provider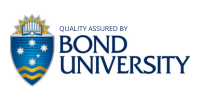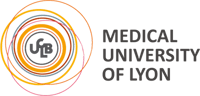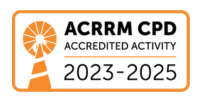 Frequently asked questions
What are the costs and payment options of the course?

Fees will vary based on the program and study option selected (fully online vs online + optional practical workshop). Payments can be made upfront or in monthly instalments. Special rates and various payment options are available. GP registrars and doctors in training enjoy a scholarship of up to $500. Talk to us to learn more.
What is the Alumni Support Program?

Completion of any HealthCert course or attendance at an event will enable you to access the HealthCert Alumni Program which includes:

Access to special alumni rates for new courses when they are released.
Special alumni price for HealthCert Conferences.
Exclusive advanced access to HealthCert events.
Regular Alumni Webinars pertaining to the course(s) you have attended. These will provide content review of the course and an opportunity to discuss case studies.
Access to the video lectures as seen during the course(s) that you have attended.
How will I receive my certificate?

HealthCert Education is pleased to issue digital credentials for alumni. Digital credentials are a permanent online record of your successful completion of a HealthCert course and are issued to all course participants in addition to PDF certificates. If you are based in Australia, you also have the option to order a hard copy of your digital certificate for a small additional fee.
Want to stay up-to-date with the latest case studies, podcasts, free video tutorials and medical research articles pertinent to primary care?