WORKSHOP OVERVIEW
The Advanced Workshop of Intrauterine Systems provides a practical introduction to this advanced procedure. The workshop will give you a step by step guide to the procedure and valuable insight into the safety guidelines you need to know to avoid complications. You will learn what equipment is necessary to achieve the best outcomes for your patients, with the opportunity to practise on simulated models. This workshop will also demonstrate how to plan patient counselling with an analysis of patient case scenarios. It will enable you to seriously consider this advanced procedure for your practice. HealthCert recommends further clinical training for this highly sought-after service; referrals to clinical trainers are available.

Further available Advanced Workshops cover the following clinical procedures: Non-Scalpel Vasectomy and Joint Puncture and Soft Tissue Injections.
ENTRY REQUIREMENTS AND WORKSHOP REQUISITES
The Advanced Workshop of Intrauterine Systems is designed for medical professionals who are interested in performing IUS insertions and removals in the primary care setting, and who wish to gain a practical introduction to this advanced procedure. Participants can expect a step by step guide to the technique and valuable insights into the necessary approach to achieve the best outcomes for their patients. The course will enable participants to seriously consider this procedure in their practice. The course is suitable for general practitioners and International Medical Graduates and assumes previous experience in clinical procedures.
WORKSHOP CONTENTS
Determining the correct steps in the process of intrauterine procedures
Recognising the safety rules to avoid complications during intrauterine procedures
Determining the necessary equipment for intrauterine procedures
Planning patient counselling
Analysing patient case scenarios
Workshop participants will:
Receive unlimited and ongoing access to free alumni learning resources, video lectures, and discussion forums, as well as invite-only events and special offers after completion of the workshop.
SUNDAY WORKSHOP OUTLINE
| | | |
| --- | --- | --- |
| Time | Session | Topic |
| 8:00am - 8:30am | Registration | |
| 8:30am – 10:00am | Session 1 | IUS theory |
| 10:00am – 10:30am | Morning Tea | |
| 10:30am – 12:00pm | Session 2 | Copper IUD and IUS practical (part 1) |
| 12:00pm – 1:00pm | Lunch | |
| 1:00pm – 2:30pm | Session 3 | IUS practical (part 2) and case studies |
| 2:30pm - 3:00pm | Afternoon Tea | |
| 3:00pm – 4:30pm | Session 4 | Case studies (continued from session 3) |
The advanced workshop is presented by an experienced GP subspecialising in the field.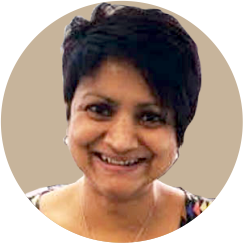 Dr Nelum Dharmapriya

MBChB(UK), MRCP, FRACGP
General Practitioner at Narangba Doctors, Queensland
Diploma of the Royal College of Obstetrics and Gynaecology, UK (DRCOG) 2000
Diploma of Family planning and Sexual Health Medicine, UK (DFFP) 2003
Obtained Letter of Competence in Intrauterine Techniques by FFPRHC, 2003
Dr Nelum Dharmapriya was born in Sri Lanka. She graduated from the University of Aberdeen, UK, in 1995 and was a partner at Heaton Norris Medical Centre in Stockport, UK, for seven years. Nelum arrived in Australia in 2009 and established Narangba Doctors in 2012. She is married with two teenage boys and loves to spend time outdoors – running, cycling, travelling and reading.