FOUNDATION CERTIFICATE
Respiratory Conditions & Infections
Improve patients' quality of life through effective prevention and management of respiratory illnesses.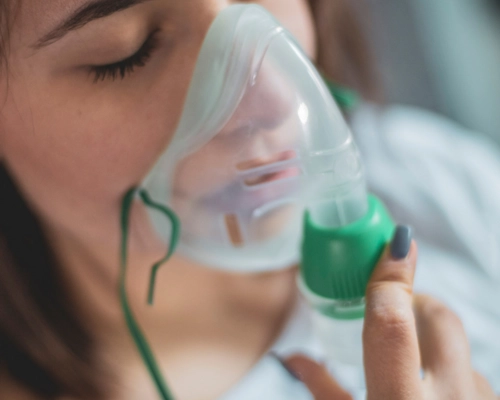 Manage common respiratory illnesses, including asthma, COPD, sinusitis, lung cancer, and upper respiratory tract infections.
This course is for medical doctors, International Medical Graduates, registered nurses and degree-qualified health professionals.

CPD-accredited.


Course fee
$995
Special rates available


Study duration
40.5 hrs
Self-paced

Reduce costs and hospital admissions for patients with chronic respiratory problems.
Save lives through the early detection and prevention of potential complications associated with lung diseases.
Improve patients' quality of life by treating respiratory conditions in-house and reducing referrals.
Get unlimited access to all course content, additional learning materials, ongoing post-course support, and more.
Asthma

This module commences with the description and epidemiology of asthma. The history, pathogenesis and a range of risk factors are outlined. An overview of the diagnosis and evaluation of patients with asthma also includes mimics of asthma symptoms. The diagnosis and management of asthma for adolescents and adults is outlined including diagnostic tools. The module then moves to the diagnosis, diagnostic tools and management of asthma in infants and children. Red flags to look for are included. The module concludes with information on thunderstorm asthma, asthma emergencies, acute asthma in primary care, vaccination and available asthma resources.
Chronic Obstructive Pulmonary Disease (COPD)

This module discusses COPD and the possible contributing heterogenous group of associated processes. Characteristics, aetiology, pathogenesis and the burden of this disease are outlined. Each stage of the COPD-X guidelines (Case finding and confirm diagnosis, Optimise function, Prevent deterioration, Develop a plan of care and manage eXacerbations) are explained in detail including investigations, impact assessment, the overlap of asthma and COPD and measuring severity. Barriers to COPD diagnosis are detailed. Management options to optimise lung function and prevent deterioration including lifestyle factors, immunisation and pharmacotherapy options are outlined. Comorbidities associated with patients with COPD are detailed and referral options outlined. The module also includes palliative care options. Adult asthma can be associated with COPD and this is discussed in detail. The management of adult asthma is revisited. The module concludes with a summary of take home messages.
Sinusitis

This module begins with explaining the purpose of sinuses and how sinusitis can develop. Contributing risk factors and presenting symptoms are outlined. Examination rules are described for the nose, throat, ears and lungs including red flags for infection. Awareness of the stages of sinusitis, classifications and investigation options determine management options. Management options are detailed including nasal spays, reducing inflammation, treating the underlying cause and safety netting at each step that may also include onward referral. Prevention strategies and potential complications are outlined that consider other contributing factors for an alternative diagnosis. The module concludes with an clinical case example that reinforces the module content.
Upper respiratory tract infections (URTI)

This module begins with an overview of URTIs including the anatomy of the upper respiratory tract. Common infections are outlined including pathophysiology, clinical manifestations, differential diagnosis and treatment options. These infections include rhinitis, sinusitis, ear and mastoid, pharyngitis, tonsilitis, deep neck, laryngitis, croup and epiglottitis. The various severity levels of each of these conditions is described to assist with determining management options.
Did you know you can also study most of these course modules in HealthCert 365?
If you're not interested in pursuing a full certificate in this field but simply want to enhance your skills in specific topics covered in this course, you can access the content of this and other courses for a flat fee of $83 per month (paid annually) within HealthCert 365.

Dr Alice Lam
MBChB, FRACGP
General practitioner
Dr Alice Lam is a general practitioner passionate about evidence-based medicine and education for medical professionals and their patients. She has over 23 years of medical experience in Australia and overseas. Dr Lam graduated from the University of Manchester, UK and practised both as a locum and partner. Since 2008, she has worked as a GP in Melbourne, Australia. Her other interests include digital health, health writing and education for health professionals and patients.

Dr Vaishali Bhalerao
MBBS, MD, DGO, FRANZCOG

Doctor, Royal Hobart Hospital
Beginning her medical career in Mumbai, India, Dr Vaishali Bhalerao has 22 years of knowledge and experience to impart. She completed her master's degree and went on to establish her own private practice, which she ran successfully for 15 years. During this period she also worked as Associate Professor in a state government hospital.
Before coming to Australia, Dr Bhalerao worked in one of the NHS hospital in the UK and since arriving in Australia in 2011 she has worked in various hospitals in Tasmania and Victoria including Mercy Werribee Hospital and Sunshine Hospital.

Dr Kate Moriarty
BMed (Hon), FRACGP, DCH

Registrar supervisor and senior lecturer for UNSW Rural Clinical School, Port Macquarie campus
Dr Kate Moriarty works in private general practice in Port Macquarie, Australia, where she is also a supervisor of GP registrars and of medical students. She is a senior lecturer for UNSW Rural Clinical School, Port Macquarie campus. She has special interests in women's health and medical education.
She holds a Bachelor of Medicine (honours), Fellowship of the RACGP and a Diploma in Child Health.

Dr Joseph Singh
MBBS, FRACGP

Clinical Lead for Education, West Australian General Practice Education and Training
Dr Joseph Singh is an Australian trained General Practitioner and a Fellow with the Royal Australian College of General Practitioners. After completing his expert qualification, he has developed special interests in medical education and skin cancer medicine.
Alongside practising medicine as a general practitioner, Dr Singh is also the Clinical Lead for Education at West Australian General Practice Education and Training (WAGPET), Lecturer at Curtin Medical School, and examiner for the Royal Australian College of General Practitioners.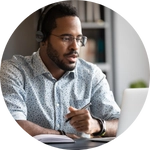 Study at your own pace and to your own schedule.
View and replay video lectures at your convenience.
Participate in online case discussions with your peers.
Participate in a course webinar prior to the examinations and ask questions.

Complete your assessment online and receive your CPD points and certificate.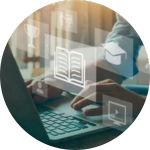 Easily meet your CPD requirements and gain valuable skills – all in one place for $83 per month.
Customise your learning experience by accessing and focusing only on course modules that interest you the most.

Gain access to 200+ additional CPD activities and 50-hour special focus CPD programs, sourced from all HealthCert university-assured programs.
Foundation Certificate of Respiratory Conditions & Infections
CPD accredited short course

Flexible start and completion time
Bundle two courses and save 5%, or three courses and save 10% upon enrolment.
Talk to us about deferred payment options, registrar scholarships and special rates.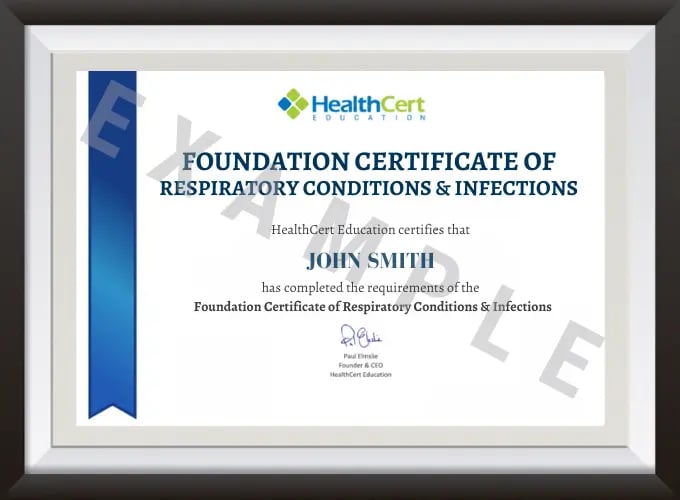 Great course! it is very relevant to all practising GPs. Who knew that there is a pathologist "secret". Every GP should know this!
Highly satisfied. Real patients and cases enhance the learning experience. I will attend the advanced course.
Don't miss this course! It's interesting, practical and enjoyable. After attending courses for 30 years, I rank this as number one. The course is very useful to all doctors who diagnose and treat skin lesions. Top marks to the organisers.
Everything was very relevant and easy to understand. Certainly in a very different league to all the other courses I have attended.
I wish I had completed this course two years ago. My time in general practice so far has not enhanced my diagnostic or surgical skills and I have been scared about skin checks! I actually feel not only confident but empowered. A fantastic course! Thank you!
HealthCert courses have become the standard by which you gauge all others.
Good, courses with excellent speakers. I particularly enjoyed the case study scenarios which helped to integrate the knowledge gained.
This is the pathway to improve your confidence and evolve into the GP you aspire to be.
RACGP Activity Number
Activity Title
Education Hours
Performance Hours
Total Hours
Chronic Obstructive Pulmonary Disease (COPD)
4.5
6
10.5
Sinusitis
4
6
10
Asthma
4
6
10
Upper Respiratory Tract Infection
4
6
10
Outcome measurement activities are not a requirement of our professional and advanced certificates. You may use an optional HealthCert outcome measurement activity or develop your own.
HealthCert provides several options to meet your outcome measurement hours requirement. These options are self-submitted activities and hours may vary depending on your focus area.
Plan Do Study Act (PDSA) options on a specific topic.
Plan Do Study Act (PDSA) on your identified area. A generic template is provided.
Outcome Improvement Activity relating to specific topics within the course.
The purpose of outcome measurement activities is to improve your clinical confidence in managing an identified learning gap. The outcome improvement activities are designed to examine current clinical care, align clinical practice with best practice standards and identify opportunities for improvement.
Pre- and post-course information
Entry requirements & recognised prior learning (RPL)

The Foundation Certificate of Respiratory Conditions & Infections is tailored for medical practitioners who wish to improve patients' quality of life through effective prevention and management of respiratory illnesses.

This course is for physicians and degree-qualified health professionals. There are no prerequisites.

Participants will require access to a computer/laptop, an internet connection and a basic level of technology proficiency to access and navigate the online learning portal.

Recognised prior learning (RPL)

Participants who have already successfully completed the module on Chronic Obstructive Pulmonary Disease as part of the HealthCert Professional Certificate of Chronic Disease & Conditions may request a one-module reduction in fees for this course. The module examination questions will still need to be completed to ensure knowledge remains current.

Further professionally recognised qualifications and prior studies may be recognised for entry into this course if the learning outcomes match exactly. Please ask a HealthCert Education Advisor for an individual assessment of your prior qualifications and experience.
Certification

Outcome measurement activities are not a requirement of this certificate. You may use an optional HealthCert outcome measurement activity or develop your own.

Upon successful completion of the course, participants will receive a Foundation Certificate of Respiratory Conditions & Infections, and CPD hours. Please contact us for more information.

Qualifies for CPD hours from the Royal Australian College of General Practitioners (RACGP).

Qualifies for CPD hours from the Australian Council of Rural and Remote Medicine (ACRRM).

Meets World Federation of Medical Education standards.

Is recognised by Royal New Zealand College of General Practitioners (RNZCGP). The RNZCGP recognises all courses endorsed by the RACGP. Peer review and audit are compulsory.

Is a self-submitted activity in Dubai. The number of CPD hours must be stated on the certificate. Please contact PLD@dhcr.gov.ae for more information.

Is a self-submitted activity in the UK. CPD events overseas, applicable to a doctor's scope of practice, may be submitted for revalidation. Please confirm with your Responsible Officer.


Is a self-submitted activity in Canada through the College of Family Physicians of Canada. Please contact mainprocredits@cfpc.ca for more information.

To learn more about the delivery of certificates in Australia and overseas, please visit our FAQs.
Frequently asked questions
What are the costs and payment options of the course?

Fees will vary based on the program and study option selected (fully online vs online + optional practical workshop). Payments can be made upfront or in monthly instalments. Special rates and various payment options are available. GP registrars and doctors in training enjoy a scholarship of up to $500. Talk to us to learn more.
What is the Alumni Support Program?

Completion of any HealthCert course or attendance at an event will enable you to access the HealthCert Alumni Program which includes:

Access to special alumni rates for new courses when they are released.
Special alumni price for HealthCert Conferences.
Exclusive advanced access to HealthCert events.
Regular Alumni Webinars pertaining to the course(s) you have attended. These will provide content review of the course and an opportunity to discuss case studies.
Access to the video lectures as seen during the course(s) that you have attended.
How will I receive my certificate?

HealthCert Education is pleased to issue digital credentials for alumni. Digital credentials are a permanent online record of your successful completion of a HealthCert course and are issued to all course participants in addition to PDF certificates. If you are based in Australia, you also have the option to order a hard copy of your digital certificate for a small additional fee.
Want to stay up-to-date with the latest case studies, podcasts, free video tutorials and medical research articles pertinent to primary care?