ADVANCED CERTIFICATE
Sexual & Reproductive Health
Advance your knowledge on the management of sexual and reproductive health conditions, especially for women.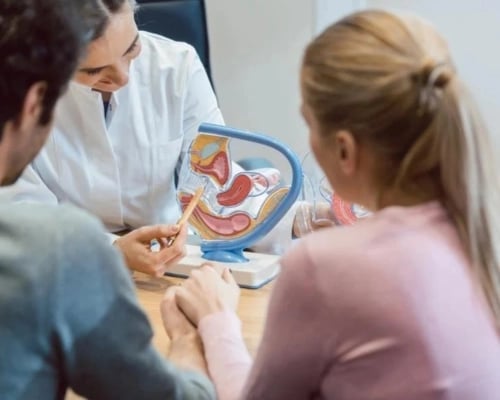 Gain the knowledge to comprehensively manage fertility, pregnancy, menopause, and more in primary care — representing a significant slice of GP service demand.
Learn how to manage female sexual health, premature ovarian insufficiency, infertility in women, pregnancy and pregnancy complications, menopause, and post-menopausal symptoms.

This course is for medical doctors, International Medical Graduates, registered nurses and degree-qualified health professionals.

CPD-accredited and university-reviewed.

CPD requirements
Fulfils 50 hrs for medical professionals in Australia*



Course fee
$1495
Special rates available


Study duration
92.5 hrs
Self-paced

Provide better care and support for patients facing infertility or pregnancy-related issues.
Accurately diagnose and manage premature ovarian insufficiency.
Offer comprehensive care to your patients, including the management of pregnancy complications and menopause issues.
Showcase your expertise and attract new patients trusting you with sensitive topics like sexual health.
Get unlimited access to all course content, additional learning materials, ongoing post-course support, and more.
Sexual health

This module recognises that sexual health is a significant component of a woman's well-being and sexual difficulties can undermine relationships, impair self-esteem, mood and quality of life. This module examines the complex, multifactorial etiology of sexual dysfunction and proposes an evaluation and treatment approach that addresses the biological, psychological, sociocultural, and relational factors. The role of the doctor to broach the subject of sex is addressed and the course guides practitioners in overcoming their apprehensions. Taking a detailed sexual history is outlined as the basis for treatment, prevention, education and empowerment to embrace healthy, satisfying, and responsible sexual behaviour. The module offers education and suggestions for some of the most common sexual health problems such as difficulty achieving orgasm and reduced libido. The final unit weighs the impact of changing hormone levels on the sexual function of menopausal women and examines the role of menopause hormone therapy.
Premature ovarian insufficiency

This module focusses on premature ovarian insufficiency (POI). The module commences with definitions of early and premature menopause including risk factors and causes of spontaneous POI. Iatrogenic POI caused by chemotherapy, radiotherapy or surgery. Information about clinical presentations of POI, diagnosis criteria, patient history, examinations, investigations, and ongoing monitoring are listed in unit two. Health consequences may include psychological distress, osteoporosis, cardiovascular disease, cognitive impairment, sexual dysfunction and other health concerns. The management of POI from initiating care and coordinating care may include a multidisciplinary approach. Information is provided on managing symptoms of menopause, sexual health difficulties and psychological issues. When managing patients with this condition, consideration needs to be given regarding prevention of bone loss, osteoporosis and prevention of cardiovascular disease.
Infertility

The experience of infertility or subfertility is often unexpected, confronting and can cause feelings of defectiveness, depression, and loss of identity. This module reviews the delicate and complex processes of ovulation, fertilisation, and implantation. It explores factors that contribute to infertility and subfertility including sex, mechanism, lifestyle and environmental factors, recreational drug use and concurrent illness. The module explores the psychological, social, physical, and financial burden of subfertility and infertility, and outlines intervention approaches. Patient case studies illustrate assessment and investigations required to construct a management plan for fertility problems. Content includes reproductive technologies such as in-vitro fertilisation, ovulation induction and DIY artificial insemination including the benefits and implications of these interventions. Adoption and surrogacy are also considered. Finally, the pivotal role of the practitioner in prevention, education, management, and support of women experiencing recurrent pregnancy loss is addressed.
Pregnancy 1

This module on pregnancy (part 1) includes guidelines to optimize maternal and foetal health throughout the stages of an uncomplicated pregnancy and creates a detailed model for screening and counseling. The three stages of pregnancy care: preconception care, antenatal care and postnatal care are outlined including considerations and procedures for screening and monitoring individual cases. A typical regimen for screening and indications for monitoring and further investigation is included. The course identifies common symptoms and complications during the antenatal and postnatal stage of pregnancy and considers risk factors, typical presentations, and potential maternal and foetal impact. Both pharmacological and non-pharmacological methods for the management of specific conditions are included. 
Pregnancy complications

This module considers four common complications of pregnancy - miscarriage, obesity, gestational diabetes mellitus and postnatal depression. It includes clinical presentation, assessment, important considerations and management options. For example, when considering a management plan for miscarriage, a woman's emotional distress and her need for control needs to balance with her physical welfare. Investigations of recurrent miscarriages are included. The increased risks of adverse outcomes associated with pre-conceptional obesity and excessive weight gain during pregnancy are covered including potential antenatal, intrapartum, and postpartum obesity-related complications. It also discusses how to conduct sensitive conversations about managing gestational weight gain. A classification of the risk factors for gestational diabetes introduces the adverse complications for both mother and infant including epigenetic dysregulation. In conclusion, the role of the practitioner is discussed as a crucial point of care for perinatal depression and comorbid anxiety symptoms.
Pregnancy complications advanced part 1

This module discusses advanced maternal age pregnancies and potential complications for the mother and the child. It examines fertility decline and possible early pregnancy complications including spontaneous abortion, ectopic pregnancy, chromosomal abnormalities and congenital malformations. Late pregnancy complications discussed include hypertension, pre-eclampsia, gestational diabetes mellitus, placental complications and increased risk of caesarean sections. Possible foetal complications including low birth weight, preterm delivery and stillbirth are included and then leads into definitions of twin pregnancies and possible maternal and foetal complications. Antenatal care, timings and mode of birth are included. Unit three defines pre-eclampsia, identifying women at risk, the effects on the body, and the pathophysiology and management of this condition including the complexities of managing this condition in rural areas. Pregnancy-related skin concerns are reviewed including skin pigmentation, stretch marks and thinning of hair. Benign and sinister specific dermatoses of pregnancy are described and examples are shown.
Pregnancy complications advanced part 2

This module discusses advanced pregnancy complications including how the immune system may respond to possible infections in pregnancy. These infections include chlamydia, syphilis, Hep B/C, HIV, GBS, rubella and varicella, HSV, listeria, parvovirus, cytomegalovirus, toxoplasma and COVID- 19. Clinical management of these conditions is outlined. The causes of antepartum haemorrhage including risk factors and clinical management of this condition are outlined. Preterm birth/labour (PTL) discusses the causes, risk factors, risk reduction, assessment and management of this condition. Vaginal/perineal tears and episiotomies, including definitions, risk factors and tear-associated morbidity are described. Episiotomy incisions are outlined and when this procedure should or should not be performed, including possible complications. The content outlines faecal and anal incontinence after pregnancy and childbirth including the definition, assessment history, examination and management of this condition.
Menopause

This module on menopause provides comprehensive information about the definitions, features and underlying causes of menopause and discusses the typical process and duration for each of the four stages: perimenopausal, menopausal, early postmenopausal and late postmenopausal. Methods for assessment and differential diagnosis of menopausal symptoms are outlined including indications for further investigation. Management options including lifestyle modifications, "natural" or complementary therapies, non-hormone pharmaceutical options and menopause hormone therapy (MHT) are discussed. Different types of MHT are reviewed including potential benefits and risks, safety considerations and testing methods. It also acknowledges potential contraindications for MHT and statistics that suggest a lack of observable effectiveness in treating some health conditions. The module outlines effective courses of action for adjusting treatment and managing complications.
Post-menopause health issues

As estrogen deficiency begins to dominate in post-menopause, women may experience health issues and escalated risks. This extension module examines the aetiology, compounding factors and socioeconomic burden. Content includes the medical and complementary management of osteoporosis, genito-urinary syndrome, mood disorders and cardiovascular disease. It provides an outline of the risk factors associated with osteoporosis and fragility fractures. It discusses the tools to assess fracture risk as well as the criteria for, and interpretation of DXA scans. Lifestyle interventions and pharmacotherapy are also considered. Together with general care, non-hormonal measures and the role of topical or systemic estrogen therapy are considered. Genito-urinary syndrome caused by the hypogenic state of post menopause is discussed. The importance of a mental health assessment for post-menopausal women is emphasised including risk factors and management of depression and anxiety. The module concludes with an overview of cardiovascular disease, the risk factors (including the impact of estrogen deficiency), and the evidence and parameters for hormone therapy.
Did you know you can also study most of these course modules in HealthCert 365?
If you're not interested in pursuing a full certificate in this field but simply want to enhance your skills in specific topics covered in this course, you can access the content of this and other courses for a full year at the time-limited price of $795 (saving $200)!*

A/Prof Debbie Kors
MBBS, FRACGP, Masters Family Medicine, DRACOG

Certificate of Family Planning, Graduate Diploma of Medical Education
Associate Professor Debbie Kors is the founder and joint owner of a private teaching general practice in Port Macquarie, Australia. She works there as a general practitioner and GP supervisor of GP registrars and medical students.

A/Prof Kors is a passionate advocate for the profession of general practice. She is a Conjoint Associate Professor in Primary Health Care at the UNSW Rural Clinical School, Port Macquarie campus and has previously worked as a senior medical educator with North Coast GP Training. In 2010, she was nominated for and won the General Practice Education and Training GP Supervisor of the Year award.

A/Prof Kors holds a MBBS (first class honours), Fellowship of the RACGP, Masters of Family Medicine (clinical), Diploma of the Royal Australian College of Obstetricians and Gynaecologists, Graduate Diploma of Medical Education and a Certificate of Family Planning.

Dr Evangelia Francis
FRACGP, MBBS, BSci (Neuroscience), DCH, DRCOG
General practitioner
Dr Evangelia (Valia) Francis enjoys all aspects of General Practice but is especially interested in skin medicine, women's health and medicine of the elderly.
Originally from the coastal town of Kavala in Greece, Dr Francis is involved in teaching medical students as a Conjoint Lecturer in the Rural Medical School of Port Macquarie as well as teaching registrars. It is a very fulfilling aspect of her work that has been greatly inspired and supported by the senior educators at her practice.
When not at work, Dr Francis tries to fight waves with surf or paddle boards (so far they always win!), is training hard to become the next MasterChef winner, and enjoys reading books and learning new languages.

Dr Kate Moriarty
BMed (Hon), FRACGP, DCH

Registrar supervisor and senior lecturer for UNSW Rural Clinical School, Port Macquarie campus
Dr Kate Moriarty works in private general practice in Port Macquarie, Australia, where she is also a supervisor of GP registrars and of medical students. She is a senior lecturer for UNSW Rural Clinical School, Port Macquarie campus. She has special interests in women's health and medical education.
She holds a Bachelor of Medicine (honours), Fellowship of the RACGP and a Diploma in Child Health.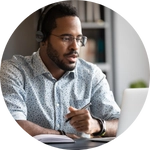 Study at your own pace and to your own schedule.
View and replay video lectures at your convenience.
Participate in online case discussions with your peers.
Participate in course webinars prior to the examinations and ask questions.
Complete your assessment online and receive your CPD points and certificate.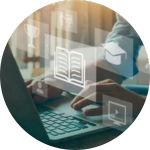 Easily meet your CPD requirements and gain valuable skills – all in one place for $83 per month.
Customise your learning experience by accessing and focusing only on course modules that interest you the most.

Gain access to 200+ additional CPD activities and 50-hour special focus CPD programs, sourced from all HealthCert university-assured programs.
Advanced Certificate of Sexual & Reproductive Health
Meets the 50hr annual CPD requirement*

Flexible start and completion time
Bundle two courses and save 5%, or three courses and save 10% upon enrolment.
Talk to us about deferred payment options, registrar scholarships and special rates.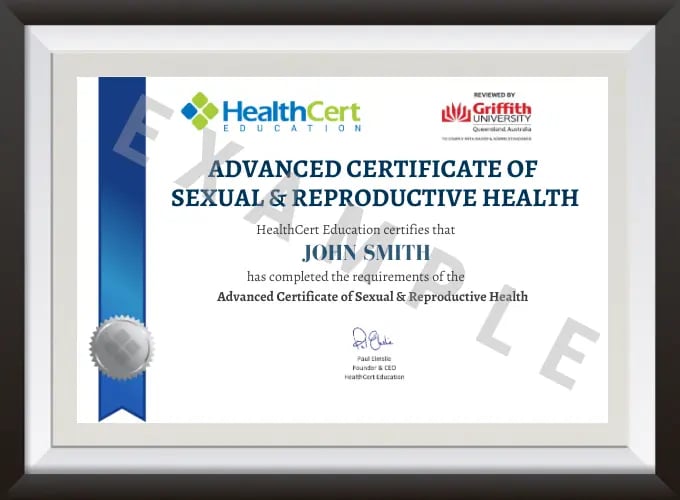 HealthCert courses have become the standard by which you gauge all others.
Good courses with excellent speakers. I particularly enjoyed the case study scenarios which helped to integrate the knowledge gained.
This is the pathway to improve your confidence and evolve into the GP you aspire to be.
RACGP Activity Number
Activity Title
Education Hours
Performance Hours
Total Hours
Sexual Health
5
6
11
Post menopause health issues
4.5
6
10.5
Premature Ovarian Insufficiency
4
6
10
Menopause
4
6
10
Infertility
5
6
11
Pregnancy
4
6
10
Pregnancy Complications
4
6
10
Pregnancy Complications (Advanced 2)
4
6
10
Pregnancy Complications (Advanced 1)
4
6
10
Outcome measurement activities are not a requirement of our professional and advanced certificates. You may use an optional HealthCert outcome measurement activity or develop your own.
HealthCert provides several options to meet your outcome measurement hours requirement. These options are self-submitted activities and hours may vary depending on your focus area.
Plan Do Study Act (PDSA) options on a specific topic.
Plan Do Study Act (PDSA) on your identified area. A generic template is provided.
Outcome Improvement Activity relating to specific topics within the course.
The purpose of outcome measurement activities is to improve your clinical confidence in managing an identified learning gap. The outcome improvement activities are designed to examine current clinical care, align clinical practice with best practice standards and identify opportunities for improvement.
Pre- and post-course information
Entry requirements

The Advanced Certificate of Sexual & Reproductive Health is for medical practitioners who wish to manage common sexual health issues to improve patient outcomes in general practice. This qualification is the second stage of the Professional Diploma of Sexual & Reproductive Health.

This course is for physicians and degree-qualified medical professionals. The prerequisite is the Professional Certificate of Sexual & Reproductive Health (or qualification deemed equivalent).

Participants do not have to pass an IELTS test but, as the courses are delivered in English, proficiency in listening, reading and writing English is assumed.

Participants will require access to a computer/laptop, an internet connection and a basic level of technology proficiency to access and navigate the online learning portal.
Recognised prior learning (RPL)

Recognised prior learning (RPL)

HealthCert alumni who have successfully completed all of the following courses may enrol in the alumni RPL version of this course at a reduced fee because some modules have already been studied:

Professional Certificate of Women's Health (2 modules)

Advanced Certificate of Women's Health (4 modules)


Sexual Health, Infertility, Pregnancy Complications, Post-Menopause Health Issues


Professional Diploma of Women's Health (3 modules)


Premature Ovarian Sufficiency, Pregnancy Complications Advanced 1, Pregnancy Complications Advanced 2

Further professionally recognised qualifications and prior studies may be recognised for entry into this course if the learning outcomes match exactly. Please ask a HealthCert Education Advisor for an individual assessment of your prior qualifications and experience.
Certification

This certificate course meets the minimum 50 hours CPD annual requirement across all three mandatory CPD activity types, provided an outcome measurement activity with a minimum of five hours is completed. You may use an optional HealthCert outcome measurement activity or develop your own.

Outcome measurement activities are not a requirement of Professional or Advanced Certificates.

Upon successful completion of the course requirements, course participants will receive the Advanced Certificate of Sexual & Reproductive Health certificate.

Is reviewed by Griffith University in compliance with RACGP/ACRRM standards.

Qualifies for CPD hours from the Royal Australian College of General Practitioners (RACGP).

Qualifies for CPD hours from the Australian Council of Rural and Remote Medicine (ACRRM).

Is recognised by the Royal New Zealand College of General Practitioners (RNZCGP).

Is recognised by the Hong Kong College of Family Physicians (HKCFP). The HKCFP recognises all courses




endorsed by the RACGP. Points are calculated differently.

Is a self-submitted activity in Dubai. The number of CPD hours must be stated on the certificate. Please contact PLD@dhcr.gov.ae for more information.

Is a self-submitted activity in the UK. CPD events overseas, applicable to a doctor's scope of practice, may be submitted for revalidation. Please confirm with your Responsible Officer.

Is a self-submitted activity in Canada through the College of Family Physicians of Canada. Contact mainprocredits@cfpc.ca for more information.

Meets World Federation of Medical Education standards.

Has been independently developed with subject experts and does not receive education grants from any pharmaceutical company.

To learn more about the delivery of certificates in Australia and overseas, please visit our FAQs.
Pathways
University quality-assured and CPD-accredited education provider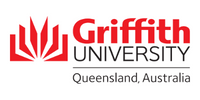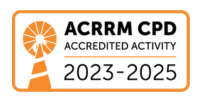 Frequently asked questions
What are the costs and payment options of the course?

Fees will vary based on the program and study option selected (fully online vs online + optional practical workshop). Payments can be made upfront or in monthly instalments. Special rates and various payment options are available. GP registrars and doctors in training enjoy a scholarship of up to $500. Talk to us to learn more.
What is the Alumni Support Program?

Completion of any HealthCert course or attendance at an event will enable you to access the HealthCert Alumni Program which includes:

Access to special alumni rates for new courses when they are released.
Special alumni price for HealthCert Conferences.
Exclusive advanced access to HealthCert events.
Regular Alumni Webinars pertaining to the course(s) you have attended. These will provide content review of the course and an opportunity to discuss case studies.
Access to the video lectures as seen during the course(s) that you have attended.
How will I receive my certificate?

HealthCert Education is pleased to issue digital credentials for alumni. Digital credentials are a permanent online record of your successful completion of a HealthCert course and are issued to all course participants in addition to PDF certificates. If you are based in Australia, you also have the option to order a hard copy of your digital certificate for a small additional fee.
How long will the course take to complete?

The recommended study duration of this certificate course is 92.5 hours, which includes study of the pre-course activities and readings, online lectures, live tutorials, and online assessment. This self-paced course offers the flexibility of 100% online study in your own time, at your own pace, in your own home or office, with no mandatory face-to-face requirements. You are not required to be online at specific times but can view and replay video lectures at your convenience.
Is this course recognised in my country?

All HealthCert courses meet World Federation of Medical Education standards. This certificate course qualifies for CPD hours from the Royal Australian College of General Practitioners (RACGP) and the Australian Council of Rural and Remote Medicine (ACRRM) in Australia. It is recognised by the Royal New Zealand College of General Practitioners (RNZCGP) in New Zealand. It is recognised by the Hong Kong College of Family Physicians (HKCFP) in China. It is a self-submitted activity in Dubai and the United Kingdom. It is a self-submitted activity through the College of Family Physicians in Canada. If you live or work outside one of the above-mentioned countries, please contact us on admin@healthcert.com to discuss whether this course can be recognised in your country.
Want to stay up-to-date with the latest case studies, podcasts, free video tutorials and medical research articles pertinent to primary care?