New program from the UK: Completed by over 10,000 medical professionals each year.

PROGRAM OVERVIEW
The GP Update is a course run by GPs for GPs, focusing on several clinical areas and the latest guidelines for diagnosis and treatment of common conditions and disease states presented in general practice. The program collates the latest issues, literature, research and best-practice guidelines, interprets these for real life general practice, and helps you keep up to date with all current topics pertinent to primary care. The program follows a lecture-style approach with humour and visual cues to help get the messages across and keep you listening (and learning!) throughout the course.
ENTRY REQUIREMENTS
The program is targeted to medical professionals working in general practice who do not have time to read all medical journals and attend various general practice education events but would like to keep up with current issues, implement new ideas into their practice, and continue to provide safe and effective patient care through training. Participants include general practitioners, general practice supervisors, general practice medical educators, overseas trained doctors, general practice registrars, medical students on placement in general practice, and general practice nurses and nurse practitioners.
no pharma sponsorship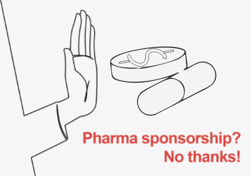 The GP Update is the only program of its type to be completely free
from pharmaceutical company sponsorship. Participants can be
reassured that there will be no biasing of the information presented.
PROGRAM CONTENTS
Participants will be presented with the most recent information on the diagnosis and treatment in general practice and receive access to the most contemporary, evidence-based literature and research in general practice. Topics covered in the program include:
Women's health toolkit

Antenatal screening

LARC

COCP

Perinatal mood disorders

PID

Diabetes and cardiovascular disease

Pre-diabetes

Managing diabetes during Ramadan

Absolute CVS risk

Salt and BP

Heart failure

How to read an echo

Ageing and wellness

B12-incl caution with PPIs

Food, mood and exercise

Osteoporosis and exercises for BMD and walking sticks

Vaccination update

Psoriasis
Acne
IBS

Afternoon clinic

Hot topic: PreP for HIV (linked to audit activity)

DV / child sexual abuse / "#MeToo"

Rheumatic fever ATSI

BPH

FAST = Stroke

Allergy and anaphylaxis

Looking after colleagues (how to be a patient)

Obstructive sleep apnoea (HANDI)

Premature ejaculation
PROGRAM OUTLINE
Saturday
TIME
SESSION
TOPIC
8:00am - 9:00am
Registration

9:00am - 9:05am

Welcome and Introduction

9:05am - 10:30am
Session 1
Women's Health Toolkit
10:30am - 11:00am
Morning Tea
11:00am - 12:30pm
Session 2
Diabetes and Cardiovascular Disease
12:30pm - 1:30pm
Lunch
1:30pm - 3:00pm
Session 3
Ageing and Wellness
3:00pm - 3:30pm
Afternoon Tea
3:30pm - 5:00pm
Session 4
Afternoon Clinic
A range of common General Practice presentations illustrating how the latest evidence can impact our daily practice.
THE GP UPDATE HANDBOOK
Click here to preview contents and 1 chapter

Delegates will receive a 250 page GP Update Handbook covering the results of the most important research over the last five years – an extremely useful reference which deals with more subjects more extensively than is possible in the online program.

The Handbook represents a valuable resource document for current needs, self-study and future reference.

Being mindful of time-poor GPs, the book is structured in such a way that you can easily see the important points without having to read the whole text.

Feedback on the Handbook includes:

"Full of tips I can start putting into practice immediately."

"I am very impressed - superb evidence based information!"

"A real 'bible'. A great resource to keep on desk to review."

"A very good summary - quick to read. Stuff that is directly relevant to everyday practice."

"Excellent, thorough, relevant. Handbook will be a great resource."
The GP Update Program features no theorists, no gurus and no sponsors – just real life GPs who will be back seeing patients as soon as the one-day course has finished. These GPs trawl through all the journals and do all the legwork to bring you up to speed on the latest issues, literature, research and guidelines in general practice.The presenters team includes: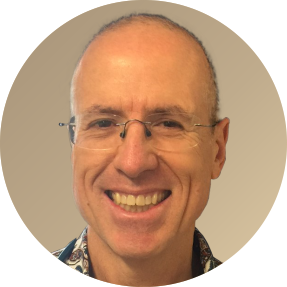 Dr Rockley Boothroyd graduated from The University of Queensland with First Class Honours in 1988. After two years at the Princess Alexandra Hospital in Brisbane, Rockley entered general practice training and gained his FRACGP in 1994. He has worked with his wife in a general practice in suburban Brisbane for 26 years, caring for families across generations. His special interests include skin cancer, psychotherapy and palliative care.
Rockley's academic interests have spanned from teaching medical students and examining for the RACGP, to being a vocal member of a local Evidence-Based Medicine Group. Outside of work he pursues a number of hobbies interspersed with soul-recharging time in the wilderness, both on the ocean and in the mountains.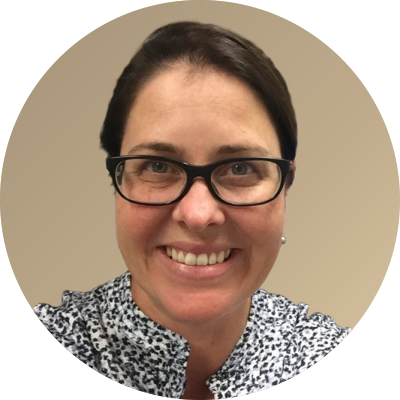 Dr Cassandra Henderson is a general practitioner working in Brisbane, Queensland. A John Flynn Scholar and member of The University of Queensland's first GMC cohort, Cassandra went on to complete her MRCGP in London. While partner of a central London practice, she attended GP Update courses for over 10 years. Cassandra has been an Associate Professor of Family Medicine at Hong Kong University and since returning to Australia teaches medical students from Bond University. Her interests include women's and children's health, EBM and medical education.
COURSE FEES AND PAYMENT OPTIONS - ONLINE
REGULAR TUITION FEE
$295
Full payment on the day of registration
GP REGISTRARS: Doctors in training who are on a recognised pathway to General Practice Registration through a recognised training provider receive a HealthCert Scholarship of $50 for the online course.

Certification and Accreditation
COURSE DELIVERY AND ASSESSMENT
The program is delivered online.
The online program, which always contains the current GP Update video recordings and the previous year's content, is delivered in video lectures which you can replay anytime. Upon registration, you will gain access to the 2018 and 2019 video contents immediately, and will receive the printed version of the 2019 GP Update Handbook.
In the online program, participants can enjoy the flexibility to study at their own pace, in their own time, within their home or office, and on their favourite mobile device. The modules are set up in such a way that participants are not required to be online at specific times but can view and replay the video lectures at their convenience. With no travel, accommodation or out-of-office expenses incurred, participants can build critical skills and tailor their career while working in a busy practice or raising a family.
CERTIFICATION AND ACCREDITATION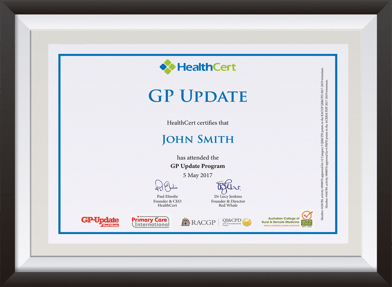 Upon successful completion of the course, course participants will receive a certificate of attendance and 12 RACGP Category 2 CPD points.
RACGP: 12 Category 2 QI&CPD points
40 Category 1 points*
ACRRM: 6 PRPD points or 30 PRPD points*
*If optional clinical audit completed.
Please contact us at admin@healthcert.com once you have completed the online program so that we can send you an electronic certificate of completion and upload the relevant CPD points on your behalf.
Optional Clinical Audits
Participants have also the option to receive 40 RACGP Category 1 points by completing an optional clinical audit on:
Anticoagulation in Atrial Fibrillation (2016)
Assessment of Fracture and Osteoporosis Risk in General Practice (2017)
A clinical audit is a planned medical education activity designed to help GPs systematically review aspects of their own clinical performance against defined best practice guidelines. A clinical audit has two main components: 1. an evaluation of the care that an individual GP provides, 2. a quality improvement process.

Attendees of the GP Update course have access to a Clinical Audit template which provides all the information and documentation required to complete a clinical audit. The activity is to be completed in your own time after the completion of the GP Update course and is to be submitted via the HealthCert online eLearning system.